Arm Balance Workshop
 with 

Annie Leeks
Have you always wanted to learn arm balances? Whether you're a beginner or an advanced yoga practitioner, this workshop is for you! The 1.5 hour workshop will begin with a short warm-up followed by detailed instruction on most arm balances. You'll learn and perfect crow, firefly, side crow, eka pada A & B, peacock, flying pigeon and grasshopper. If there's an arm balance not mentioned, please come with requests. Hands on adjustments and help to land your arm balances will be provided. You'll leave the workshop with confidence and knowledge gained from these tricks and tools taught to incorporate into your own yoga practice.
Cost: $28
Healing Sound Bath
 with 

Gary Posner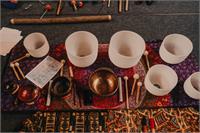 Healing Sound Bath @ Yoga Synergy with Gary Posner
Friends, I would like to invite you to a relaxing and healing Sound Bath at Yoga Synergy.
The evening with focused breathing and then lay down for a 50 minute Sound Bath. The session will end with a Chakra Clearing Mantra and then there will be time for a Q & A. We will experiment with the clinically tested Sound Formula: Sound + Intention = Healing.
Sound Baths are a combination of restorative yoga, meditation and a sacred sound concert. They have been shown to reduce stress, enable deep relaxation, enhance creativity, possibly uplift the spirit and help with insomnia. Sound Meditations slow down your brainwaves and guide you into a deep meditative state or altered state of consciousness. Participants lay down comfortably and then are "immersed" in the sounds, vibrations and harmonics of the instruments. Gongs, Himalayan bowls, crystal singing bowls, tuning forks and shamanic percussion instruments are played in a clinically tested, therapeutic sequence to maximize benefits. No previous knowledge or experience is required. Sound is a very accessible form of meditation where benefits are usually experienced right after the first session. As my teacher likes to say, "simply lay down and bathe in the sound."
Gary Posner is an award-winning composer, musician, educator and Certified Sound Therapist, earning his degree from The British Academy of Sound Therapy (BAST). For the last three years, he has been facilitating weekly Immersive Sound Bath Meditation for the students, teachers and staff at The American School in London as well as regular Immersive Sound Bath Meditations at Rosslyn Hill Chapel — a 400 year old Unitarian chapel in London, England. Most recently he started facilitating BAST style Sound Bath Meditations in the Westchester/Southern Connecticut area.
Gary taught, studied and played music all over the world. He composed music for HBO, Cinemax, ESPN, Court TV, Tru TV, Discovery Channel, National Geographic, and History Channel. In addition, he toured and recorded with Tom Tom Club, Talking Heads, Peter Gabriel, Lou Reed, The Grateful Dead, Ziggy Marley, Keith Richards, Debbie Harry, The Ramones, Television, The Fine Young Cannibals, The Gypsy Kings, Robert Palmer and Roberta Flack.
Cost: $35
4 Secrets to Handstands 
 with 

Matt Giordano
Sun
Date:

12/5/2021
From:

 1:00 pm – 2:30 pm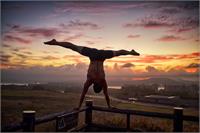 Learning to handstand is a process, abundant with discovery and amazement. Whether this is your first inversion workshop or you are well versed in the art of handstands, brace yourself as we delve into alignment, work toward mastery of the shoulder girdle, and explore acrobatic principles so you can build confidence and manifest a greater sense of balance. You will learn exercises that unify body and mind to create a solid foundation for a lifetime of standing on your hands. As a group we will create a safe and transformative space that will be appropriate and for all levels of practice. Take your handstand practice to the next level!
Recommended experience for Handstand!: 3 months of steady yoga or acrobatic practice.
Combine with the Handstand workshops for a discount and pay $80 for both!
Discover Joy in Backbends
 with 

Matt Giordano
Sun
Date:

12/5/2021 
From:

 3:30 pm – 5:00 pm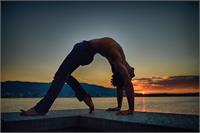 Discover Joy in Backbends. The back-bending practice can be some of the trickiest poses in Yoga, and can seem like either something you just can or cannot do. While some people naturally have more flexibility in an arched position others have to take a more studied approach. In this workshop we will go over techniques that will bring joy and ease to your back bending practice. Those that are less flexible will focus on techniques to unlock tension. Those that have an established back bending practice will be able to take themselves to a whole new level using precision in their approach!
Cost: $48
Combine with the Handstand workshops for a discount and pay $80 for both!